I like to eat. Most of my expenses are for food. I don't mind spending more money on food rather than on other things such as clothes or bags or shoes. On my PMS, I always have the urge to eat, and I should eat.
When I have that desire towards eating but nothing around seems to good to eat, I will have my comfort food. The ones that never failed to make me happy, the ones that will be eaten with pleasure.
Soto
I like soto with clear soup, without any coconut milk in it. I can eat soto for breakfast, or for lunch, or brunch, even dinner. My favorite is Soto Sergopuro in Jalan Kaliurang, near my campus. Everytime I come home, I will try to manage to visit the place. Usually eat it with hot tempe kemul goreng fresh from the pan. Not many warung soto I tried in Jakarta is suitable for my taste, but I like Soto Kudus in front of Masjid Pondok Indah, and Soto Bangkong (it's actually a branch from famous soto from Semarang) near my current workplace.
(pic from there)
Nasi Goreng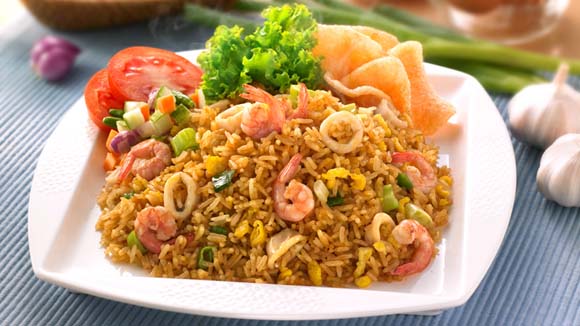 Have no idea what to eat for dinner? Eat nasi goreng! Come to a new place but no idea what to order but there's nasi goreng? Nasi goreng wins! Want to cook but got no idea and don;t have too vary ingredients? Nasi goreng!
(pic from there)
Bakso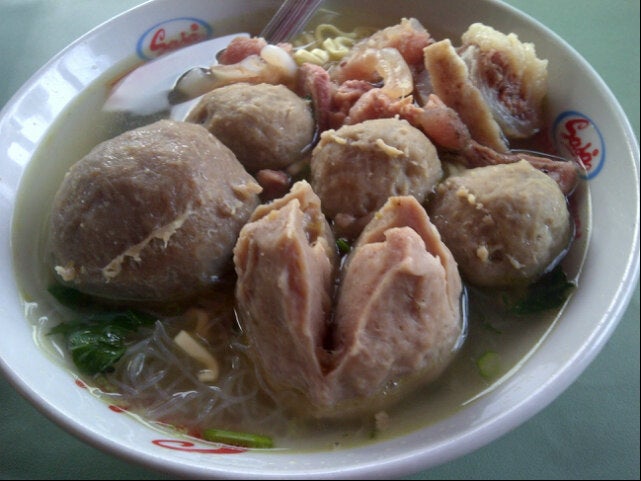 It's raining? You need something warm but not too heavy while waiting the rain to stop? I always think bakso. Not really a fan of bakso in a restaurant, I prefer the ones in small warung or the side of the road (should be careful of the hygiene, tho). My favorite is Bakso Gaharu near my previous office. When in Jogja, I usually eat Bakso Idola near my house and Bakso Raksasa near my campus. I sometimes eat bakso with rice as complimentary hahaha.
(pic from there)
Sate Padang
This should have to be in the list. When I live in Padang, I eat Sate as snack, I can eat it almost everyday. The founder of this food should be placed in heaven. Just smelling the aroma, already gives me a pleasure (even when you found out in the end that it doesn't taste good). Sate Saiyo was my favorite when I'm in Padang along my childhood, but most of times I eat sate from a man with the cart that go around neighborhood. In Jakarta, I ate the legendary Sate Ajo Ramon but not really impressed. I prefer Sate Salero Ajo at Fatmawati (they also have a branch at Radio Dalam). I once had a pact to try all of Sate Padang stall in Jakarta. Wanna join? :p
(pic from there)
Indomie
HA! You should not claim yourself as Indonesian, if you don't like this one. As cliche as it is, Indomie is the last choice when nothing's left as an option. Or when I am just too lazy to move. I can have the easiest way of Pop Mie or I can really put effort in preparing other stuffs in my Indomie, like vegetables or onions, or mushrooms, eggs, and cayyene pepper or capcay left from last dinner.
Okay, now I am hungry.
—
(Illustration from there)
1